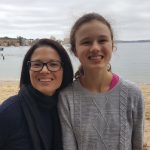 Hi! My name is Jacinda, and my daughter Lianah plays the cello.
She picked up the instrument when she was 5 years old and she first started in a youth orchestra when she was 9. In 2019 she is now 13 and currently a cellist in Sydney Youth Orchestras (Philharmonic). Lianah is taught by David Pereira.
If you are a parent of a young musician then I probably don't need to tell you that concert blacks basically don't exist. And if you do find something, it usually isn't very nice. Or it's poorly made. Or it just doesn't meet stage requirements.
All I wanted to dress her in were simple, sophisticated, stylish, unpretentious black clothes. I found that these didn't exist, especially black clothes that were age appropriate, stage appropriate, comfortable and good value for money.
I used to dread every time my daughter would have a growth spurt because it meant I had to try and find black clothes for her again.
What that usually entailed was me spending hours on my one day off going into each and every shop looking for black clothes. Or I just had to "make do"…sneaking her in black jeans (which she hated because they were hot and uncomfortable), or safety pinning a skirt 2 sizes too big for her. I never actually resorted to her wearing navy blue, but I know some parents do that.
Sound familiar?
Concert blacks for kids don't exist. So I decided to fix the problem! Surely if I'm going through this, other mums are too?!?
Cadenza Apparel was born out of my frustration! My vision was to create an online shop for concert black clothes – black clothes that are available all year round, delivered to your door step with a click of a button!
I have put a lot of thought into the design, fit and function of the bespoke concert blacks. These are all my unique designs that you won't find anywhere else. All musicians require something slightly different but ultimately I wanted a collection that could be mixed and matched, with styles and fabrics that are comfortable yet stylish. My very fussy daughter approves, I hope you and your child do too!
Who do we work with?

We're proud to have been chosen to dress the girls from Our Lady of Mercy College, Parramatta. You'll find their music students in our Short Sleeve Lace Blouse.
Sydney Korean Wind Orchestra also chose our Long Sleeve Shirt when they toured Korea for the International Wind Festival and Competition in August 2019.
Cadenza Apparel has been the proud supporter for 2nd place of the Melbourne Youth Orchestra Virtuosity Competition 2 years in a row. As an official sponsor, we offer unique discounts to members of Melbourne Youth Orchestra – please enquire with MYO if there are any current coupon codes you can use.
Where can you find us?
We are mainly an online business. We do however have pop-up stalls at various events with Sydney Youth Orchestras, Melbourne Youth Orchestras and Tasmania Youth Orchestra. Pop-up stalls are a great way for you to see and feel the quality of our clothes, and try the clothes on for size. If you have a child or students at school who need concert blacks, or if your school currently doesn't wear concert blacks (but you would like them to) or if you would like to see us at your next orchestra event please get in touch!
Happy music making! Thank you for stopping by!
Jacinda & Lianah