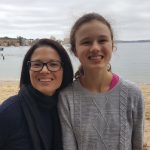 Hi! My name is Jacinda, and my daughter Lianah plays the cello.
She picked up the instrument when she was 5 years old and she first started in a youth orchestra when she was 9. In 2019 she is now 13 and currently a cellist in Sydney Youth Orchestras (Philharmonic).
If you are a parent of a young musician then I probably don't need to tell you that concert blacks don't exist.
Isn't it a nightmare trying to find plain (but nice) black shirts, black pants, black blouses, black (long/maxi/below the knee) skirts….?! Especially black clothes that are age appropriate, stage appropriate, comfortable and good value for money?!?
I used to dread every time my daughter would have a growth spurt because it meant I had to try and find black clothes for her again.
What that usually entailed was me spending hours on my one day off going into each and every shop looking for black clothes.
Sound familiar?
Finding orchestra blacks when you actually need them (because the next performance is a week away) is almost impossible. You never find it. You always just "make do".
But "making do" for concert blacks means safety pinning an adult skirt together to fit your 10 year old. Or thinking that the white buttons on the black shirt will go unnoticed. Or, trying to get away with navy blue….it's dark enough right? It won't stand out too much….
Concert blacks for kids don't exist. So I decided to fix the problem! Surely if I'm going through this, other mums are too?!?
Cadenza Apparel was born out of my frustration! My vision was to create an online shop for concert black clothes – black clothes that are available all year round, delivered to your door step with a click of a button!
I have put a lot of thought into the design, fit and function of the bespoke concert blacks. I have learnt that a musician has certain requirements for their clothing – cellists need stretch to their pants, and tops that have sleeves that won't interfere when they play. Violinists need shirts with no fancy collars and some stretch so they can play comfortably. All musicians require something slightly different but ultimately I wanted a collection that could be mixed and matched, with styles and fabrics that are comfortable yet stylish. My very fussy daughter approves, I hope you and your child do too!
New styles will be added so please be sure to come back regularly to check. I have started with clothes just for females, but I will be doing clothing for males soon! If we don't offer something you would like, please contact me – I'm always open to new ideas and suggestions!
Where can you find us? We are mainly an online business. We do however have pop-up stalls at various events with Sydney Youth Orchestras, Melbourne Youth Orchestras and Tasmania Youth Orchestra. Pop-up stalls are a great way for you to see and feel the quality of our clothes, and try the clothes on for size. If you have a child or students at school who need concert blacks, or if your school currently doesn't wear concert blacks (but you would like them to) or if you would like to see us at your next orchestra event please get in touch!
Happy music making! Thank you for stopping by!
Jacinda & Lianah