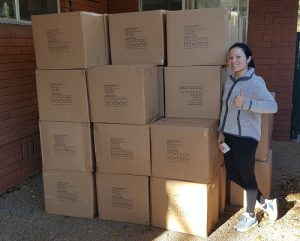 The wait is finally over! I finally received my long awaited first delivery for Cadenza Apparel.
I now have 69 boxes inside my house!!! The delivery driver turned up and asked, with all seriousness, "Where's your forklift?"
I can't wait to start packing and dispatching all the pre-orders I've had so far! (All orders will be sent out Monday 9th July).
Now time to spread the word to all the youth orchestras that age appropriate concert blacks actually exist! No more excuses for girls in short skirts or spaghetti strap tops! I've made and designed a superb quality product that not only looks amazing, it's actually comfortable to wear and move in.  Head to Cadenza Apparel to shop for your full orchestra outfit in the comfort of your home, delivered straight to your door.
Have fun! Jacinda xx