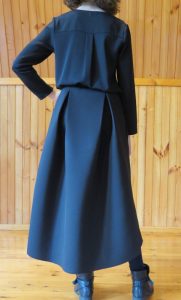 I need to get something off my chest.
Short black skirts are not appropriate to wear on the stage as concert blacks.
Full stop.
As a parent to a young girl, I would never dream of putting her in a short skirt to wear for her youth orchestra performances.
Here's why.
When one sits down in a short skirt, the hemline creeps up even higher.
When the musicians are up on stage, the audience has to look…..well…. up!
And it is very awkward sitting in the audience when the girls are wearing skirts above the knee. We don't actually know where to look. We want to look up to see them play, but at the same time we can't look up.
Youth orchestras exist for a multitude of reasons. A child learning an instrument gets to play repertoire they wouldn't normally play in individual lessons. They learn how to play in a group, follow a conductor and listen. They learn how to sit still (hopefully). They learn respect, hard work, perseverance and dedication. They have fun! But they also learn a little bit of what it might be like to play in a professional orchestra when they're older. That is (in addition to the above)- turn up to all rehearsals (or notify people in charge if you won't be able to make a rehearsal), practise your parts thoroughly, and stage etiquette.
A major part of stage etiquette is: DRESSING APPROPRIATELY.
In my experience, youth orchestras generally give out a student handbook each year that specifically states what concert dress they expect students to wear. And I'm getting really frustrated that children are dressing in concert blacks that are completely inappropriate.
But the dress code is set for a reason. To maintain a high standard of visual appearance on the stage. The children are representing the organisation that they are playing for. Just like a school uniform is set, with specific rules, the orchestra dress requirements should be given the same respect.
I don't think this is asking too much.
I know how hard it is to find suitable concert blacks especially for girls. I've been there. That's why I created Cadenza Apparel! I understand the appeal of wearing a skirt, which is why I created the Tulip skirt. I also know how hard it is to find a girls black pant that is comfortable to wear with long periods of sitting (also another reason why I created the ponte pant).
I know my range is currently small and I need to add to it. I'm in the process of designing a few more styles to suit different tastes, so sign up to the newsletter to stay informed.
Until then, please, no more short skirts. I beg you.